My Week With Malachite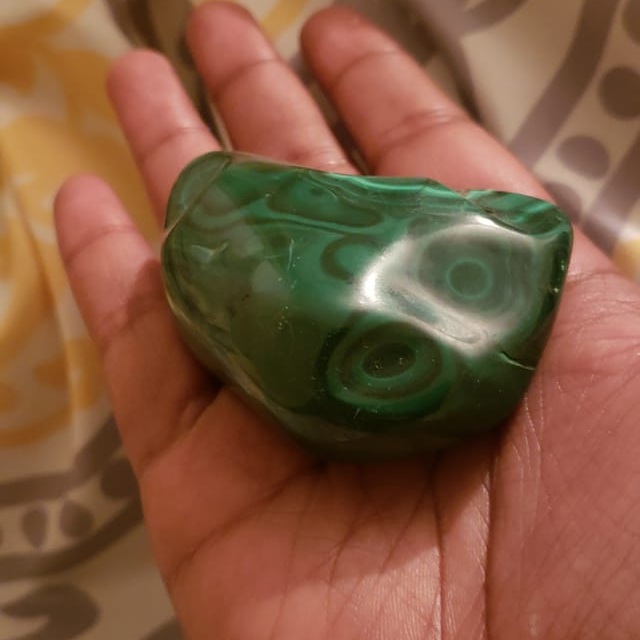 Because sometimes you need to pull out the big guns
So, I was walking my dog on July 26th (1 day before my birthday) and got hit by a car. The driver wasn't paying attention and that led me to taking a bit of a ride on the hood of his car (Happy Birthday to meee).
Needless to say, this incident threw my entire life out of whack. I'm still recovering physically, mentally, and emotionally.

To help I used my Malachite. Malachite has quite a few things it can do but I used it for it's energetic clearing properties and for it's ability to help relieve back pain.

So for one week, I was determined to use it as my one and only crystal ally. Meaning, that I only used this crystal for a week.

Below is my day by day account of how it worked for me.

July 28th Immediate Relief. I held it in my hands for a while as I meditated and then laid down with this stone on my chest. My back pain lessened a little as well and I was able to get an okay night's rest. I slept with the malachite next to me.

July 29th I woke up in an absolute funk. Every emotion I tried to suppress became amplified. I also went looking for the person who hit me with their car, and I found him within 20 minutes. My mood however was completely shot and I spent the rest of the day in bed (after finding a lawyer). It's said that Malachite will amplify your energy good or bad and I can 100% see how this was the case.
*Took a much needed break from the stone for 3 days. *

August 2nd - I meditated with stone in the morning while holding it in my hands. I felt like my energy had been renewed. I was less grumpy and a whole lot less angry.

August 3rd and 4th - I kept this stone on my nightstand and I slept the weekend away. Over the course of the weekend, I got much-needed rest and clarity.

August 5th - I placed the stone on my desk as I worked and started physical therapy. My back pain was noticeably less before I went to physical therapy which was great because I was no longer using pain meds. My clarity slowly started to return as well.

August 6th - Placed the stone on my desk and periodically meditated with it throughout the day. My clarity for my work has returned in full blown capacity and I got more work done than I had in a while. I'm starting a new project and I didn't overthink it which is huge for me. Malachite for the win!

Overall, I would say that my work with this stone was pretty successful. I put a halt to my work with the stone because I began using other methods to help and I tend to like to isolate methods and figure out exactly what each thing is doing.

Have you ever used malachite? Would you consider it?